Widnes and District Horticultural Society Annual Show 2022
Fruits, vegetables, plants and handicrafts
Entry to our Annual show is free as is the opportunity to enter your craft, vegetable and flower exhibits. The Annual Show is held on the first weekend of September each year. This year it will be on Saturday 3rd and Sunday 4that the Upton Community Centre, Hough Green Road, Widnes. Even if you do not enter items come and see what is growing in Widnes. Pick up a bargain in our plant and produce sales , talk to our experts about your gardening projects (advice is free) and enjoy some refreshments.
To enter your exhibits, please complete an entry form. Entry forms can be downloaded via the link below. If you have any problems downloading the form please email us at widneshorticulture@yahoo.com.
Each entry form should list the category or categories that you are entering. Use as many entry forms as you require.
Entry forms can either be emailed to us or submitted prior to staging your entry on the afternoon before or morning of the Show.
Please remember to collect your exhibits at the end of the Show. Unfortunately we may have to dispose of any that are left after 5.00 pm.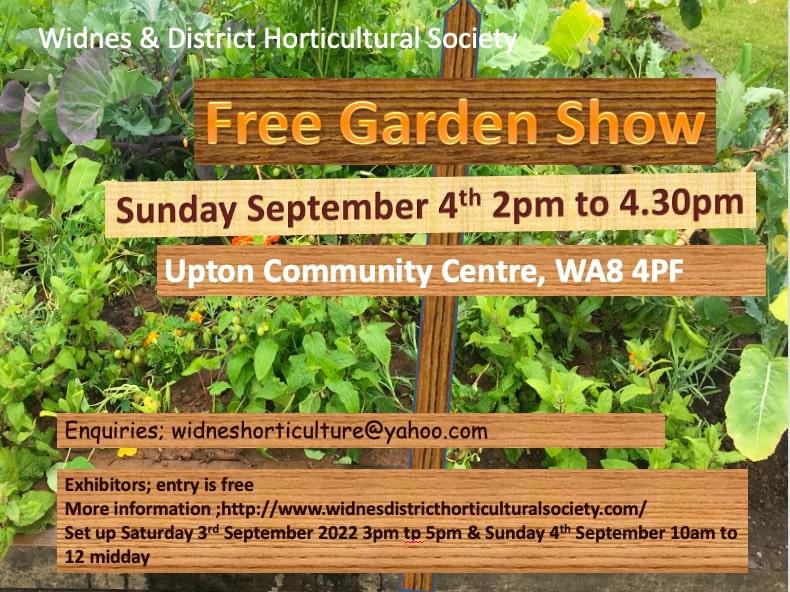 Entry forms and details of categories of exhibits accepted may be downloaded here :
Judging and Show Rules
Judging of horticultural exhibits will be carried out by experienced judges guided by Royal Horticultural Society rules and conditions as appropriate. Details of RHS standards are given on their website. Craft, photography and bakery exhibits will judged by appropriate independent judges.
Show rules
1. Winners will be issued with certificates. No prizes will be awarded.
2. Staging is to be completed by 12 midday on the day of the Show. Exhibitors will be issued with an entry number, this must be placed with each exhibit but without the number showing. Any exhibit not identified on a completed entry form or entry number will not be judged.
3. An exhibitor may enter any number of exhibits in one class or any number of classes.
4. Entry to Children's classes must be from those under 16 years of age.
5. Exhibitors are to provide their own vases and the varieties or types of exhibits are to be named where applicable. Fruit and vegetables must be presented on white paper plates.
6. All exhibits of shallots snd onions must be dressed with raffia.
7. All exhibits are left at the owners' risk.
8. Trophies will be retained by the Widnes and District Horticultural Society . No cups and trophies can be kept by the winners but there will be the opportunity to take photographs.
10. Any objections regarding judging must be lodged before 4.00pm on the day of the Show. All objections will be investigated by the Committee and their decision will be final.
11. The interpretation of the Rules rests with the Committee.
12. Winners and information about the Show will be posted on this website.